About Rebecca

Rebecca's great-grandfather, living in a small pioneer town in the west, moved his log cabin from his farm into town to be closer to play the fiddle for the town dances.  Playing for community dances runs deep in Rebecca's soul.
Following her father's footsteps, Rebecca studied classical piano from a young age, and later clarinet.  Rebecca earned undergraduate and graduate degrees in music at the University of Southern California, and studied conducting at the Mozarteum in Salzberg, Austria.  Rebecca later studied jazz piano, both privately and by exploring the clubs in the San Francisco Bay area.  Rebecca continues to play solo piano at private events.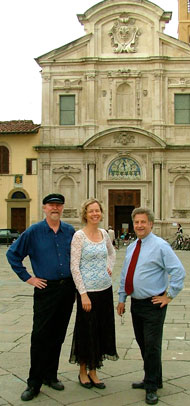 Rebecca began playing for American Contra Dances in southern California, playing with Anita Anderson, Michael Mendelson, and Forrest Carroll.  Now in northern California, she plays with many musicians, including the bands Persons of Quality (with Jon Berger and Jim Oakden), and Luceo (with Lee Anne Welch and Karl Franzen).  Rebecca co-produced the CD Swinging On The Gate, a compilation of the contra dance bands playing for the Bay Area Country Dance Society (BACDS). She went on to produce and record the CD's Farnicle Huggy and Next of Kynaston with Persons of Quality, and a solo piano CD Nearer & Farther using original compositions.
Her study of classical music led to her love of English Country Dance music, where she often plays for dances in the North Bay Country Dance Society (NBCDS). Rebecca has performed and taught workshops at many Balls, Weekend Dance Events, and Dance Camps, including the BACDS Family Camp, English Week "Hey Days," Fall Frolick, Lark Camp, and Pinewoods English Week. Internationally, she has performed in Florence, Italy, and the UK.  Her emotionally lyric style, with strong rhythmic accompaniments make her a favorite for dancers and musicians alike.